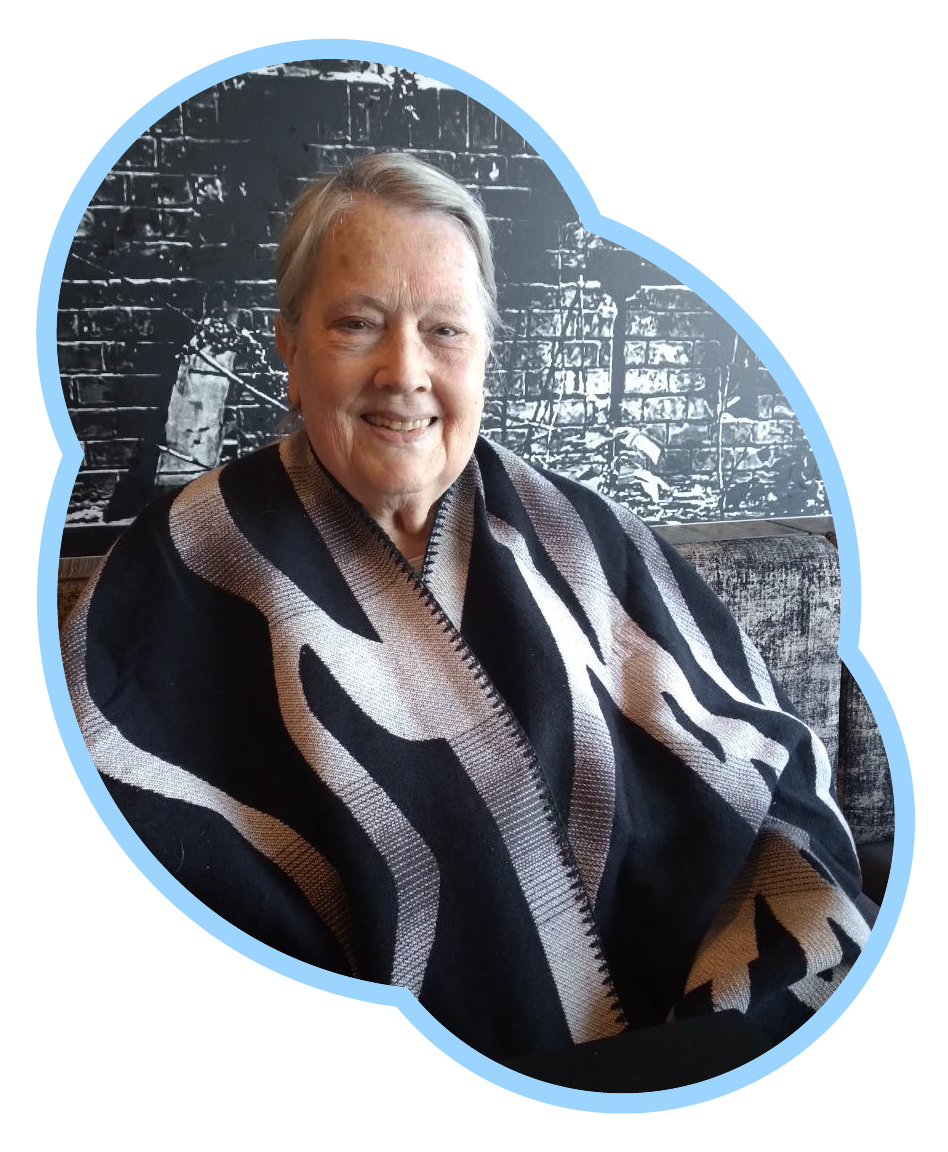 For the thousands of elderly Australians who've been on the waiting list for a Home Care Package, receiving an eligibility letter is a moment of excitement. The news that you're eligible for Home Care Package funds means you can finally get the help you need to live in your home.
But for Lynette Herbert, the news of her approval brought as much anxiety as it did relief.
In September 2020, when Lynette was approved for a Level 2 Home Care Package, the COVID-19 pandemic was improving in Australia.
Lockdowns were ending, cases were decreasing, and the positivity rate was low. But the thought of bringing a stranger into her home as a carer still made Lynette nervous – and not just because of the new fears brought about by the recent pandemic. 
"I was worried about the type of people I would be letting into my home," Lynette says. She had never had in-home care before, and she didn't know what to expect.
Would her carers be kind? Would she enjoy their company? Would she feel comfortable in her own home, or would it feel like strangers were coming into her personal space? Up to that point, Lynette had received all her care from family and friends, and the idea of welcoming strangers into her house was daunting.
Lynette was also worried about the cost of care. Even though her Home Care Package would provide funding, she didn't know if it would be enough to pay for all the care she needed. "I just wanted someone to look after me and not charge me lots of money," she says. "I was worried about fees and whether I could get the help I would need."
Those worries weren't unfounded: many people who receive Home Care Packages still struggle to pay for all the care they need. When a person is determined eligible for home care, they're awarded a package level according to how much in-home support they need. However, the actual hours of care available in a package level varies widely by provider.
Some home care providers charge as much as 30% or more of total package funds in administrative fees. This means that significantly less funding is available for actual hours of care. As a result, many people are forced to "top off" their package by paying for additional hours out of pocket in order to get the full amount of care they need.
Lynette knew she needed a home care provider that would enable her to feel comfortable about the carers coming into her home. She also knew she needed a provider who charged reasonable fees, so the majority of her package funds could go directly to her care. She found both in The CareSide.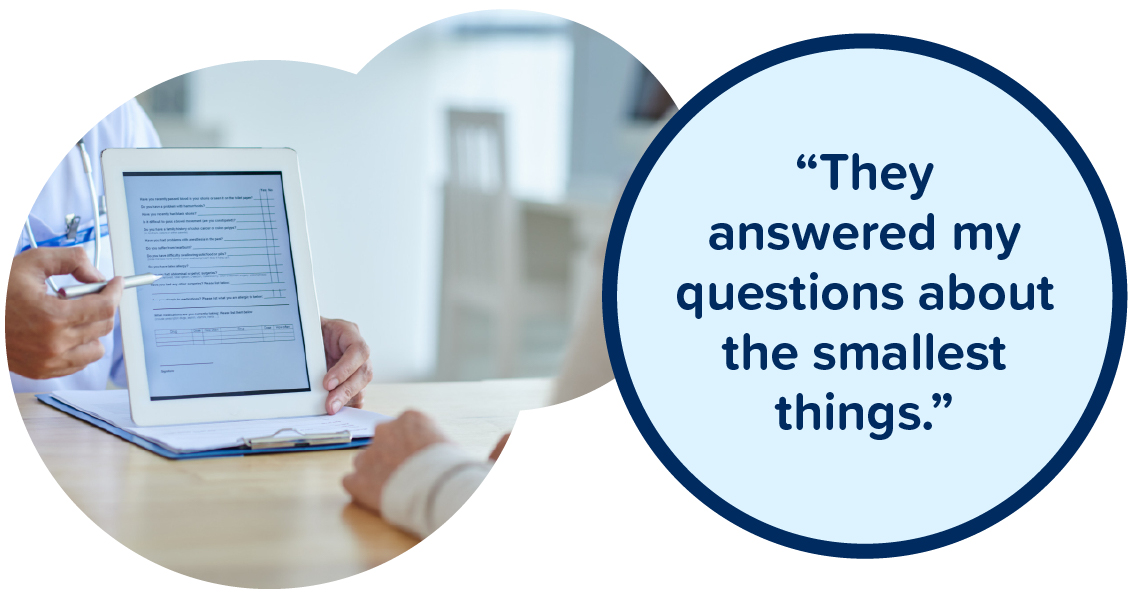 When Lynette found The CareSide, she called to inquire about their fully managed home care services. And from her first phone call to The CareSide office, she knew she'd found her provider. 
"The CareSide team was just so friendly," Lynette says. She had a long list of questions, but they took all the time Lynette needed, answering every question and reassuring her. "They answered my questions about the smallest things," Lynette remembers. 
Lynette also had several conversations with Jennifer, The CareSide's office manager, which helped relieve Lynette's worries about bringing a new person into her home. "Jennifer was just so lovely and calming on the phone," Lynette remembers. After a couple of conversations, Lynette felt confident about signing a contract with The CareSide for her home care. 
Just as The CareSide does with every new client, Emily, The CareSides chief operations officer, took the time to talk through all the details of her contract with Lynette, so she would know exactly what to expect. The process of creating her care plan and contract was surprisingly simple, Lynette remembers. "They made everything so easy for me," she says. 
After her in-home care began, Lynette was even more impressed by the level of care she received and the support of the staff. "Jennifer follows up with everything I need," Lynette says.
No task is too simple or unimportant for her carer, and Lynette always feels that her carers take the time to pay attention to details. They answer all of Lynette's questions and make sure her needs are fully met. Lynette feels that her carers "go above and beyond every time they come." 
Since her Level 2 package means she needs several different types of support, Lynette receives care from other staff in addition to her main carer. The CareSide matches carers to the needs of clients, so Lynette's team is chosen to meet her specific needs and situation. She's been impressed with the skills of all the carers on her team. "The staff who attend are all such lovely ladies," she says, "and they do everything they can to help me." 
Lynette's care hasn't been all smooth sailing. Not long ago, The CareSide's ability to meet her needs was put to the test. 
Lynette doesn't need continual care, so she's often home alone between care visits. Recently, while she was home alone, she fell and injured her shoulder. Although her injury was relatively minor, it affected her ability to shower, dress, and perform other daily tasks that she usually does for herself. 
Suddenly, Lynette found herself needing significantly more care. Although her need for additional support was temporary, she didn't know how difficult it would be to increase her hours immediately and get the care she needed while she was recovering from her injury. 
But The CareSide came through, and within a day, Lynette had all the assistance she needed scheduled for the next few weeks.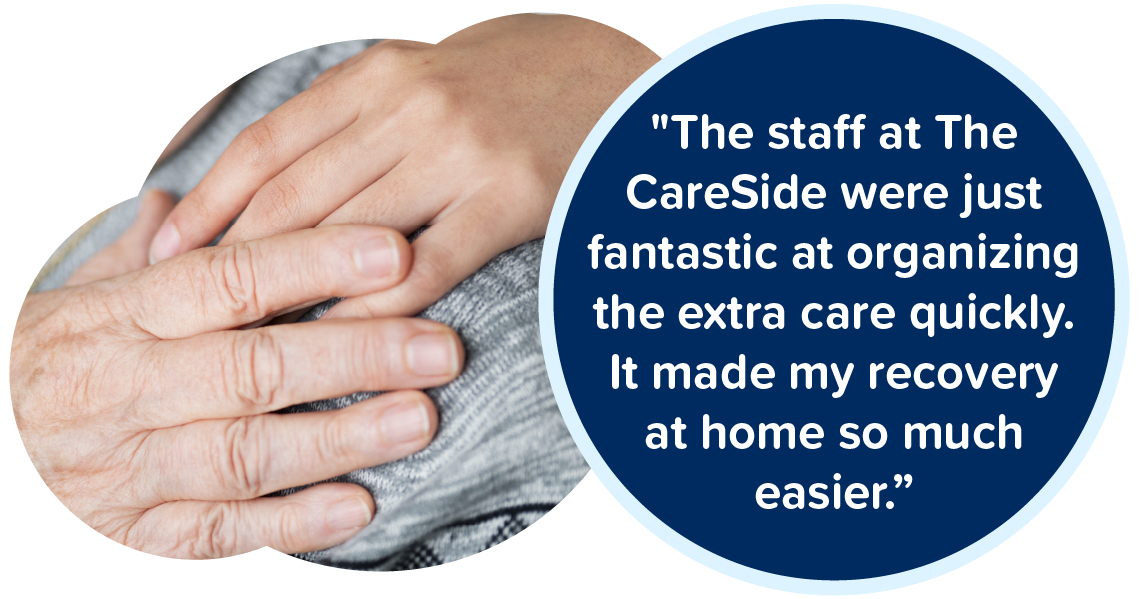 "The staff at The CareSide were just fantastic at organizing the extra care quickly," Lynette says. "It made my recovery at home so much easier." 
In March 2021, Lynette's eligibility changed, and she signed a renewal contract with The CareSide for her recently-approved Level 3 package. Her new approval level would have been a convenient opportunity to shop for other providers, but that thought never crossed Lynette's mind. "CareSide has been my only provider," Lynette says, "and I hope they always will be."