Good news if you have a Home Care Package!
On the 1st of July, the Government Funding for the 4 different levels of Home Care Packages increased. The new rates are stated in the table below.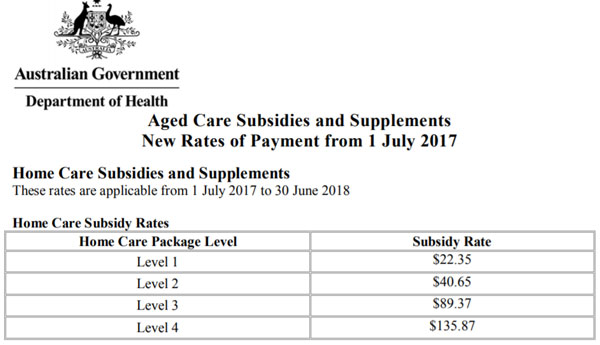 Although the increase is not large, at least it is keeping pace with inflation. The new annual Home Care Package amounts by level and the comparison to the previous years' amounts are described in the table below.

The basic government co-contribution of 17.5% of the pension stays the same. This is not really a fee as it is added to your package amount. It is your minimum contribution to the cost of your home care. If you have difficulty meeting this fee, you can apply to the government for assistance.
The income tested fee is different to the basic daily fee. This fee is determined by the Department of Human Services and depends upon the amount of your income. You will be required to pay a fee if your annual income is above  $26,072 a year as a single or $40,471 as a couple. The amount that you pay is the amount the government payment will be reduced by. That is, your effective package amount will stay the same size, but you will pay more of it and the government will pay less.
If you receive a cognitive supplement due to a Dementia related condition, then this supplement has increased as well as of 1 July 2017. The new rates are described in the table below.

If you would like more information on how the financing of government Home Care Packages work, information on how to self-manage home care, or if you would like a Free Review of your Home Care Fees and Charges to find out how you can pay less, then please contact us on 1300 85 40 80 or visit the website at www.thecareside.com.au