Self-managed Home Care Packages Explained
When You Want Complete Control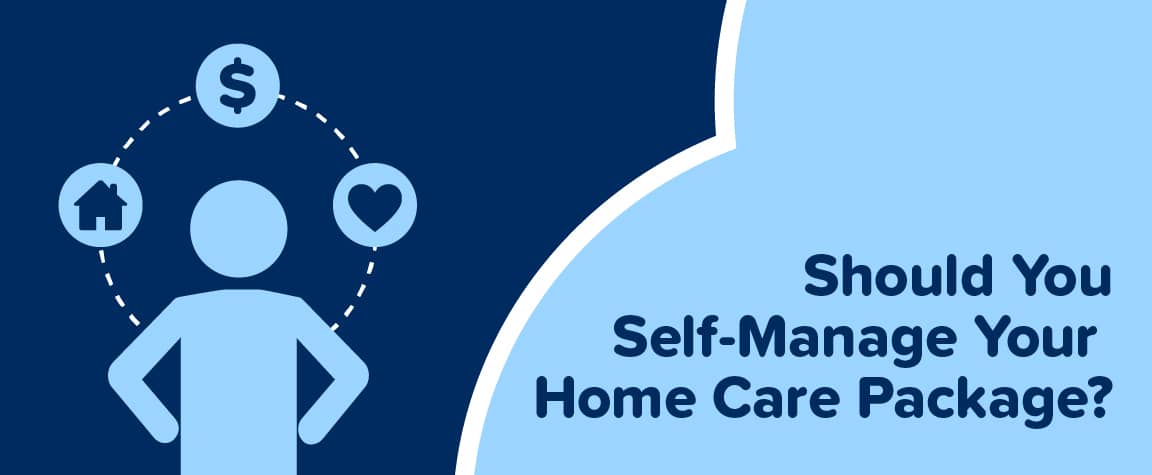 Should You Self-manage Your Home Care Package?
One of the purposes of a Home Care Package is to help you keep your independence as you age. Perhaps it's your goal to continue gardening in your yard, or to enjoy regular visits with your neighbor. Perhaps you want to continue hosting family gatherings in your home. But it's likely that your independence is something you value. 
Managing your Home Care Package yourself can be a way that you continue to exercise your independence, choice, and control. After getting a home care package, your funds belong to you, and you can spend them wherever you wish. Therefore, it's beneficial for you to become knowledgeable about exactly how and why your package funds are spent. And since no one understands your aged care needs better than you, in many ways, no one is better qualified to manage your care. 

What is a Self-managed Home Care Package?
Every Home Care Package requires at least one care manager to oversee the use of the funds. The care manager can be your provider (in a fully managed plan), you (in a self-managed plan), or a partnership between you and your provider (in a partly self-managed plan). You can also appoint a friend or relative as your care manager.
Not all providers offer self-managed home care packages, so if that's important to you, you'll need to choose a provider who offers the options you want. You have the right to choose how involved you want to be in managing your care. You can decide which aspects of your care you want to manage and which aspects you want your provider to handle. Self-management doesn't have to be all or nothing; you have a choice about how much you want to do.
It's important to know that even if you choose self-management, your provider is still required to offer you resources and support for the administrative aspects of your package. Self-management doesn't mean doing all the work alone; it just means having more autonomy, control, and responsibility for each aspect of your care.

What's Involved in Self-managing Your Home Care Package?
There are several key areas of management that the care manager needs to address. You can choose to manage all of these, or you can just self-manage the aspects that matter most to you. Either way, you'll need to work closely with your provider to ensure that all the tasks are taken care of and that your spending and services are all in compliance with government regulations. Your provider can also help you ensure that the ways you spend your funding is in compliance with the guidelines of your approved Home Care Package.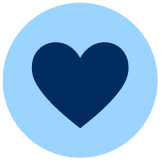 Hiring and managing carers
Being able to directly hire and manage your carers is one of the main reasons why some elders choose to self-manage. With provider management, your provider will choose, hire, and schedule your carers. To self-manage this aspect of your package, you'll need to find carers, check their qualifications, and schedule your care. This could include running background checks, checking certifications, and verifying their training credentials. Your provider is still legally responsible for ensuring that your carers are qualified, so you'll need to find carers who meet their requirements.

You'll also need to manage your carers, which means that if you have a concern about something your carer does, you'll need to address it directly with them. This means you can talk directly with the person responsible about your concerns, but it also could mean having an uncomfortable conversation if you aren't happy with your carer.

You'll also be responsible for personally scheduling your care. If you contract with several individual carers, you'll need to schedule appointments with each of them individually. In addition, If your usual carer is sick or otherwise unavailable, you'll need to schedule a substitute.

Finally, since you'll be employing your carers directly, you'll need to comply with all Fair Work Australia employment guidelines. This means you'll need to give your carers a tax group certificate, and you may have to pay their superannuation. You'll also need to determine whether you need to pay GST, and if so, you'll have to calculate the amount and remit it annually.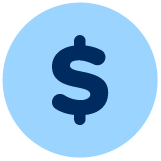 Managing and spending your funds
If you're self-managing your Home Care Package, you'll need to track your package budget. That means you'll need to know how much funding you have each day, how much you've spent, and how much is left. You'll also need to ensure that you only spend your package money on approved services and purchases.

To do this, you'll need to be able to access information about your budget and spending. Your provider should give you a way to access an up-to-date summary of your spending, such as an online portal or app. You'll also need a way to access your funding so you can pay self managed home care packages' providers directly, such as a prepaid debit card or an invoicing system. Finally, you'll need a way to ensure all your spending is compliant with all Aged Care legislation and to demonstrate that you received the correct items and services approved in your package.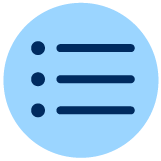 Managing your care plan and compliance
All types of Home Care, including a self-managed package, are required to follow your individualised Care Agreement. Your Care Agreement is a contract you make with your provider, and it outlines the services and care you need. When you're self-managing, it's your responsibility to make sure that every service you're purchasing is included in your Care Agreement and that every carer you choose is legally able to provide that service.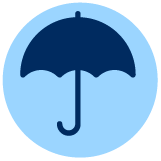 Buying insurance
Even if you're self-managing, your provider is legally responsible to ensure that the care you're receiving meets the Aged Care Standards. Your provider will outline the insurance requirements for your carers and for you in your Care Agreement. Usually, your carers will need to have public liability insurance and professional indemnity insurance, and you will need to purchase a minimum level of home insurance.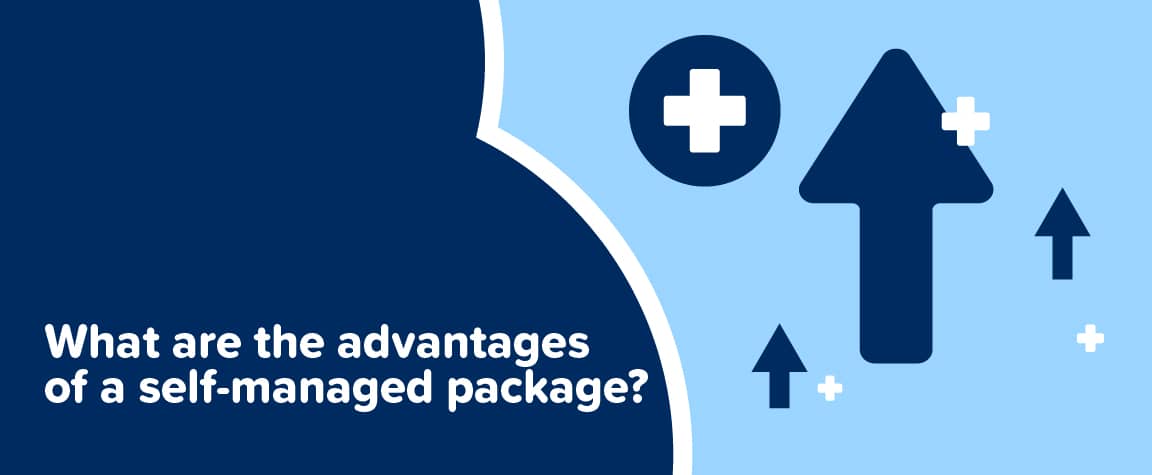 What are the Advantages of a Self-managed Package?
The biggest advantage of self-management is that you have full choice and control over all your spending. You'll always have full transparency about exactly what your options and every choice you make regarding your care. If your needs change and you need to adjust your care package, you'll have a clear picture of how the changes could impact your budget and your care.
Self-management can also save money on home care package services, since many providers charge high management fees and offer significant discounts for self-management. (The CareSide charges no additional fees for full management.)
Finally, many providers only allow you to schedule carers within a broad window of time instead of specific appointments. One of the main self-management benefits is that it allows you to schedule carers directly, ensuring that your support workers arrive at a time that's convenient for you. The CareSide always guarantees a specific arrival time for your care appointments. This article will show you how to transfer home care providers to get started with The CareSide right away.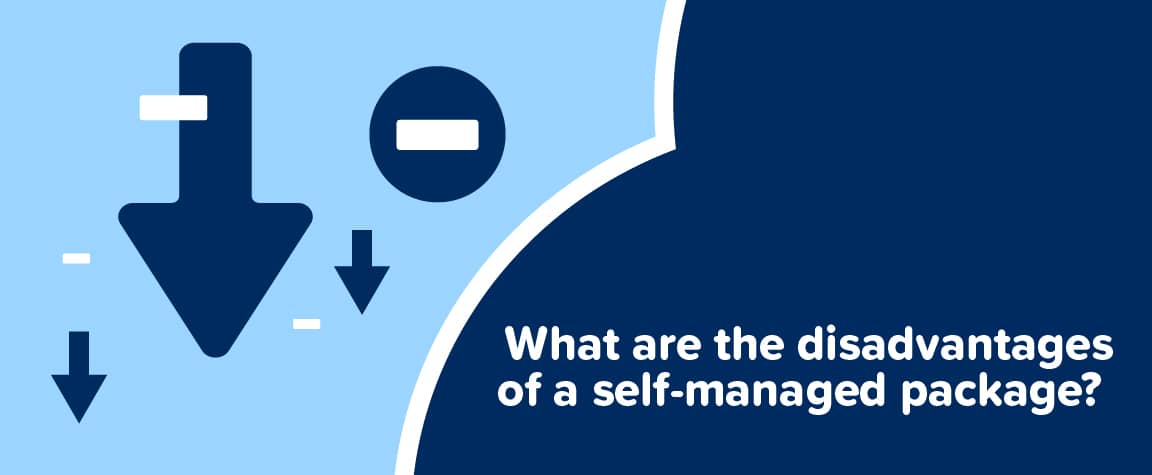 What are the Disadvantages of a Self-managed Package?
Although self-managing your home care package does offer some benefits, it also comes with some challenges. Even with self-managed home care packages, your provider is still legally required to host your package funds and to ensure your care and spending are compliant with your package, so you'll still need to coordinate with them to approve your carers, access your funds, and track your spending. You'll have more hands-on input into every detail of your care when you self-manage, but you'll also spend a lot more time and energy on administrative tasks. Different providers offer varying levels of support for administration in self-managed packages, and some may require you to meet their requirements without providing sufficient support. 
Self-managing your package also can involve some risk. For example, if your care needs change due to a shift in your health, then you'll be responsible for all the administrative work involved in changing your plan. This could be challenging to do at the same time you're managing changes in your health. If you need to go to the hospital or pause your package, managing those changes will fall on you.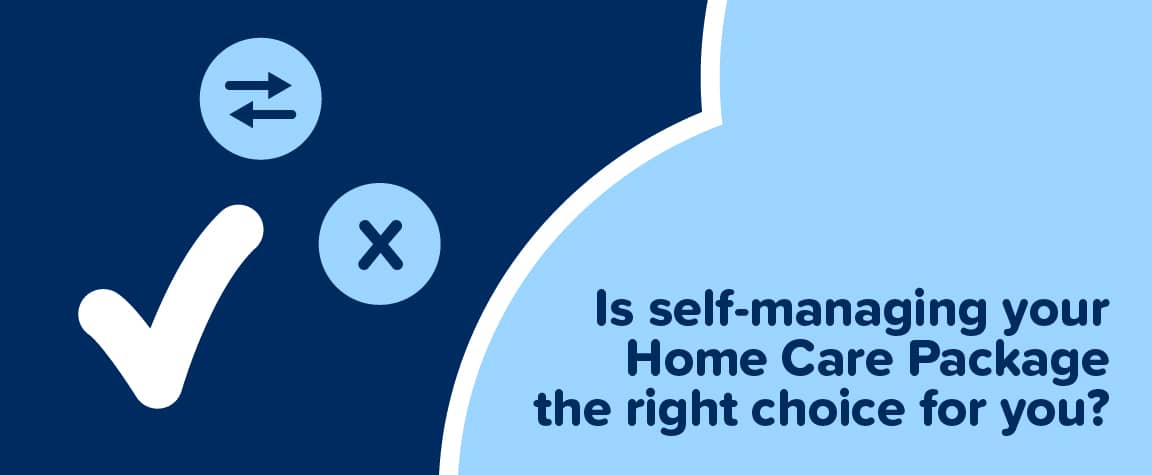 Is Self-managing Your Home Care Package the Right Choice for You?
Whether you self-manage your package or choose a fully-managed plan, you'll still have choice and control over your support workers, your schedule, your spending, and your care. Both self-management and full management will prioritise your preferences and needs in designing your care. If your care needs are minor, then self-management could be a good fit. You can learn more about what's involved in self-management from the COTA Australia self-management resources.
If you have more complex care needs or don't have time to fully manage the administration of your care, contact The CareSide to learn about our free full case management services. The CareSide is one of Australia's top home care providers, contact us using the buttons at the top of the page to let us know how we can help with your home care package- self-managed or not.